Baby Shower Jeopardy Trivia Game [Green, Gender Neutral]
Regular price
$9.00
Sale price
$12.00
Unit price
per
Tax included. This is a digital product.
Baby shower games should be loved by your guests! Go for our easy-to-play baby shower jeopardy trivia games delivered in an exciting parody of America's favorite game show that's sure to be a huge hit at your baby shower!

Grab a game that's:

Creative, unique, and will bring on the laughs
Quick to set up
Easy to customize
A hit for guests of all ages, from kids to teens to adults
Suitable for coed showers for men, women, boys and girls
LOOKING FOR OTHER VARIATIONS?
This game also has a PINK VERSION and BLUE VERSION.
-----
What's Included in This Gender Neutral Baby Shower Jeopardy Game
Your FULLY functional Powerpoint baby shower game includes:

Animated intro with jingle*
30 total questions and answers
Set one of the questions to a random daily double question with customizable wager*
Working scoreboard to automatically add or subtract points for up to 6 teams
Final question round
Fun theme song music, sound effects for right and wrong answers, animations*
Use done-for-you questions or simply swap out with your own
*Please see more details further below in description for how to access the features marked with an *

Check out GIF below, or our detailed How to Play Jeopardy Powerpoint tutorial that highlights how to play and edit our game: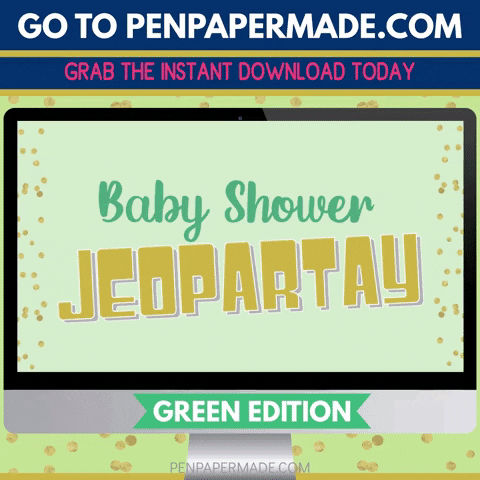 This instant download is pre-loaded with 5 questions and answers in each of the following 6 categories for a creative, unique baby shower game:

Oh "Baby"
Picture Riddles
Fruits of Labor
Baby Babble
Poo-pourri
Dad Jokes
Ideas to Customize or Personalize This Unisex Baby Shower Jeopardy Trivia Powerpoint
Easy to edit and personalize for your own baby shower or baby sprinkle to include other categories such as:

Questions about Mom and Dad
Nursery Rhymes
Baby Word Scramble
Emoji Pictionary
Price is Right and more
(Questions not included; see bundle for more printable games that can be edited into your own version of Baby Shower Jeo-partay!)

Who This Baby Shower Jeopardy Game Trivia is Ideal For
Perfect women or co-ed baby shower game, fun for all ages
Family, friends, coworkers in office party, from young boys and girls to conservative Grandma will love this game
Use for virtual party on Zoom, Skype, Google Hangouts, WebEx, GoToMeeting, Join.me, ReadyTalk, OnStream Meeting, Microsoft Teams, ezTalks Meetings and more!
Project on big screen TV or projector, mirror with Apple TV
Or print out questions and create your own game board
Why People Love Our Games
"It's like playing the real game! The sound effects and scoreboard are amazing!
"So easy to edit and use"
"Everyone loved it! Fun way to celebrate with friends and family"
"Such a fun game that everyone enjoyed, even if they weren't playing. A big hit at our party!"
How to Use This Product & Software Requirements
For the FULLY interactive macro version with animations, working scoreboard, and other features marked with an * above, you must have:


Download the free Powerpoint app to use the non-macro version with an iPad or iPhone: https://www.microsoft.com/en-us/microsoft-365/try

**NOT suitable for Keynote, GoogleSlides, older versions of Microsoft Powerpoint (2010 or prior) or Microsoft web version.**
What You Will Receive (Additional Details & Specs)
Your digital files will be delivered via INSTANT DOWNLOAD. No physical items will be mailed to you. Your download includes:

.PPTM file (open with Microsoft Powerpoint 2011 or later)
.PPTX file (open with Microsoft Powerpoint 2011 or later)
.PDF instructions/checklist for how to test, edit, and play the baby shower game in Powerpoint

We HIGHLY recommend testing the Powerpoint out before your party to get familiar with the layout and buttons.



What to Know Before Purchase
This product is an instant digital download (NO PHYSICAL PRODUCT will be shipped)
Within a few minutes of your purchase, download link(s) to your products will be sent to the email address linked to your account.
You may download and print as long as it's for PERSONAL USE only and not for resale or redistribution
Please do not share the actual file/product, but rather share this listing so others may purchase a copy for themselves. Thank you for respecting the many hours of hard work have gone into the creation of this product and for your support of our small shop
It is your responsibility to download and save to your computer; the download link will work up to 3 times or up to 30 days from your purchase before expiring
Colors may vary slightly due to monitor or print settings
By purchasing any items from this store, you agree to the above policies

Note: This game template is a fun parody of the classic "Jeopardy!" game and is not endorsed by or affiliated in any way with the hit trivia game show.
Giving Back
Backstory: Our parents escaped war and poverty for a better life in America. Hard work and the kindness of others helped us to achieve the American Dream. We want to pay it forward by donating a portion of our sales to support organizations that are making this world a better place.
More Helpful Tips & Additional Resources
Click on the next tab of this product page for general digital content FAQs, including how to:
access your digital downloads and/or courses

edit and print your printables

recommended resources
-----

<3 Thank you for supporting our small business and helping to make a difference with your purchase!

(c) Pen + Paper Made.
Please follow these general tips on:
accessing your digital downloads
accessing course content
editing and printing printables
recommended resources
You may also check out our detailed Frequently Asked Questions page for more helpful information.
Please make sure you have the proper software to open your downloads before purchasing.
Due to vast differences in technology, we are unable to provide any technical assistance, but here is general information and troubleshooting tips to access your digital products.
HOW TO ACCESS DIGITAL DOWNLOADS:
After completing your purchase you will also receive an email with your receipt and a link to access your digital product(s). Please keep this for your records.
Once you have downloaded your file(s), you will need a PDF Reader like Adobe Reader (100% free to download) to open the file.
If you need troubleshooting help, we have a whole page dedicated to accessing your digital content. Click the link for more information. 
 HOW TO ACCESS COURSES:
Some of our products come with course lessons. Immediately after you complete your purchase, you will receive an email with instructions to set your password on our secure course platform. Follow the prompts to create your account so you may access the video and/or audio content.
HOW TO EDIT OUR PRINTABLES:
Note: NOT all files are editable; please check the product listing if the printable(s) you are purchasing can be edited. Also, only certain text parts of the printable may be modified; graphics, background, or size cannot be edited.
Open your printable in Adobe Reader. Your computer may automatically open the PDF in a different program. To ensure that it is open in the correct program, right click on the file, select "Open With" and "Adobe Reader"
You must edit on a desktop or laptop computer. You cannot edit on a tablet or phone.
Only text that is bound by a blue box may be edited. Note that the blue box serves as an editing guide and will not be visible on the final print out.
Use Command-E (Mac) or Control-E (Windows) to change the text's color, size or font.
When you are happy with your edits, save your modified printable by going to "File" then "Save As" or print directly from your home printer by going to "File" then "Print." See the next section for more tips on printing.
 When you purchase a product that can be edited, we provide a guide with more detailed instructions on how to make edits to your printable.
HOW TO PRINT OUR PRODUCTS:
For best results, use 110lb white cardstock or paper for colored text and graphics or 110lb white/colored cardstock for black text and graphics.
Printing at Home (recommended)

When you are ready to print on your inkjet or laser printer, go to "File" then "Print"
Select "Best/High" for Print Quality
Set scale to "100%" or "Actual Size"
Do not print double-sided

Printing In-Store

Save your files on a USB flash drive to take to your local printing shop, such as Office Max/Office Depot, Staples or Kinko's 
For best results, use an office printing service; quality is not guaranteed if you attempt to print through a photo lab
You may need to convert your PDF file to a JPG, which can be done online for free

Printing Online

Uploading editable PDF files to an online printing service may not transfer all the information properly. You may need to convert your PDF file to a JPG, which can be done online for free.
RECOMMENDED RESOURCES:
*Below are affiliate links to products or services. We may earn a commission at no extra cost to you. Thank you for supporting our small business!
---
Share this Product
---